Summary
Objectives
Activities
Interlinking places
Festivals
Digital platform
Partners
Support organizations
Summary
Linking places through networked artistic practices
A-Place is a project co-financed by the Creative Europe programme(2019-2023), dedicated to strengthening the bonds between people and places. A programme of placemaking activities will take place over the next four years in six European cities: Barcelona, Bologna, Brussels, Lisbon, Ljubljana, and Nicosia.
WHAT
A-Place is a platform for creation, debate and experimentation about the sense of belonging and identity which groups from multiple backgrounds and cultures hold with in their social and physical environments. Through site-specific art, creative spatial practises and cultural projects, A-Place aims to engage a variety of stakeholders -residents, artists, architects, students, policy-makers- in a process of reflection through action about the meaning of and value of creating places.
WHY
Contemporary spatial production has rendered a plethora of non-places, that is, spaces, in which people feel unable to create meaningful links. Non-places can be seen as a result of globalisation, gentrification, alienation, migration and mass tourism. To counteract these trends, A-Place will engage artists and communities to actively reinvent notions of place latent in socio-physical environments in order to reconnect people with places. The creative spatial practices implemented by the network aim to create meaningful places to have better, more inclusive and supportive communities.
HOW
A series of creative interventions, exhibitions and video art works will be realised over the duration of the programme, adopting site-specific research that examines the role of artistic practices as a catalyst to enhance and connect communities. The activities will be embedded in the communities, in an attempt to reveal the hidden meanings of places. The placemaking process carried out simultaneously in the partners' cities will involve multiple stakeholders, which will gradually generate a network across distinct disciplinary, cultural and geographic boundaries.
Public, students, artists, academics and critiques; municipal authorities, cultural organizations, primary and secondary schools, and activist groups are invited to participate in the project activities. Open calls for art and architecture students and artists will be announced periodically, inviting them to participate in specific actions.
Objectives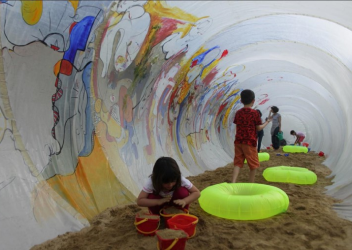 Green Urban Lab by Urban Gorillas. Nicosia, 2014-15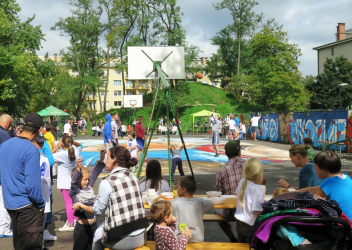 Participation process by KU Leuven. Brussels, 2019
The goals to be achieved with the project are summarized as follows:
- To develop and apply creative placemaking practices which help to reveal the manifold meanings that the various individuals and social groups give to the places they share, to create meaningful connections between places between different cities and cultures.
- To create cross-disciplinary learning spaces arising from the confluence of the artistic practices with the educational programmes, at different level, from school to higher education, intertwined with placemaking activities. These places will overcome boundaries between academia and society, and between disciplines.
- To explore the role and exploit the potential of networked artistic practices in the creative placemaking process, by embedding them in the community and engaging other stakeholders in the co-creation process (residents, students, educational staff), in the physical and digital spaces.
- To exploit the capacities of digital technologies creating new links between representations of places (videos, photographs, stories) disseminated through digital networks, and framing activities in digital space in sociocultural contexts where they can be meaningfully used in creative placemaking activities.
Activities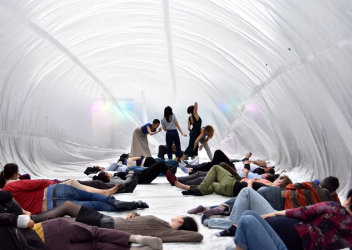 Playground renovation by Prostoroz. Ljubljana, 2018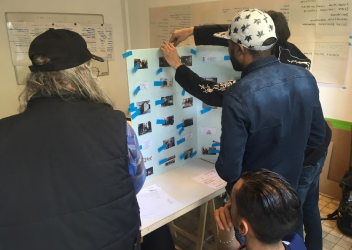 Networked Spatial Practices by KU Leuven. Brussels, 2019
A-Place will carry out a comprehensive programme of placemaking activities embedded in the communities in six European cities -Barcelona, Bologna, Brussels, Ljubljana, Lisbon and Nicosia- using artistic interventions as catalysts to entwine the hidden meanings of places and to promote the active participation of the multiple actors (artists in residence, neighbours, students and teachers, cultural mediators, civic organizations) in the collective construction of an identity in our global and multicultural, information and networked societies.
Interlinking places
Networked artistic practices (performances, installations, video and photography) will be used with a double purpose: 1. To unveil and disseminate within the communities the meanings that groups and individuals assign to the spaces they inhabit and 2. To create a network between multiple locations (streets and neighbourhoods), actors (citizens, artists, teachers) and meanings (multiple experience of a place, as experienced by various groups and individuals) which will overcome cultural and geographic boundaries.
There will be five type of local placemaking activities to be carried out in the six cities:
Spot-Place, artistic interventions embedded in community settings
Mobile-Place, mobile installations (a van, a container) installed in public spaces
Learn-Place, spaces of debate around the artistic productions and outputs created in Spot and Mobile-Place
Digital-Place, archiving and interlinking digital outputs (videos, photographs, narrations, sounds) from various physical locations
Joint-Place, artistic interventions on one selected location with the participation of representatives of all partner organisations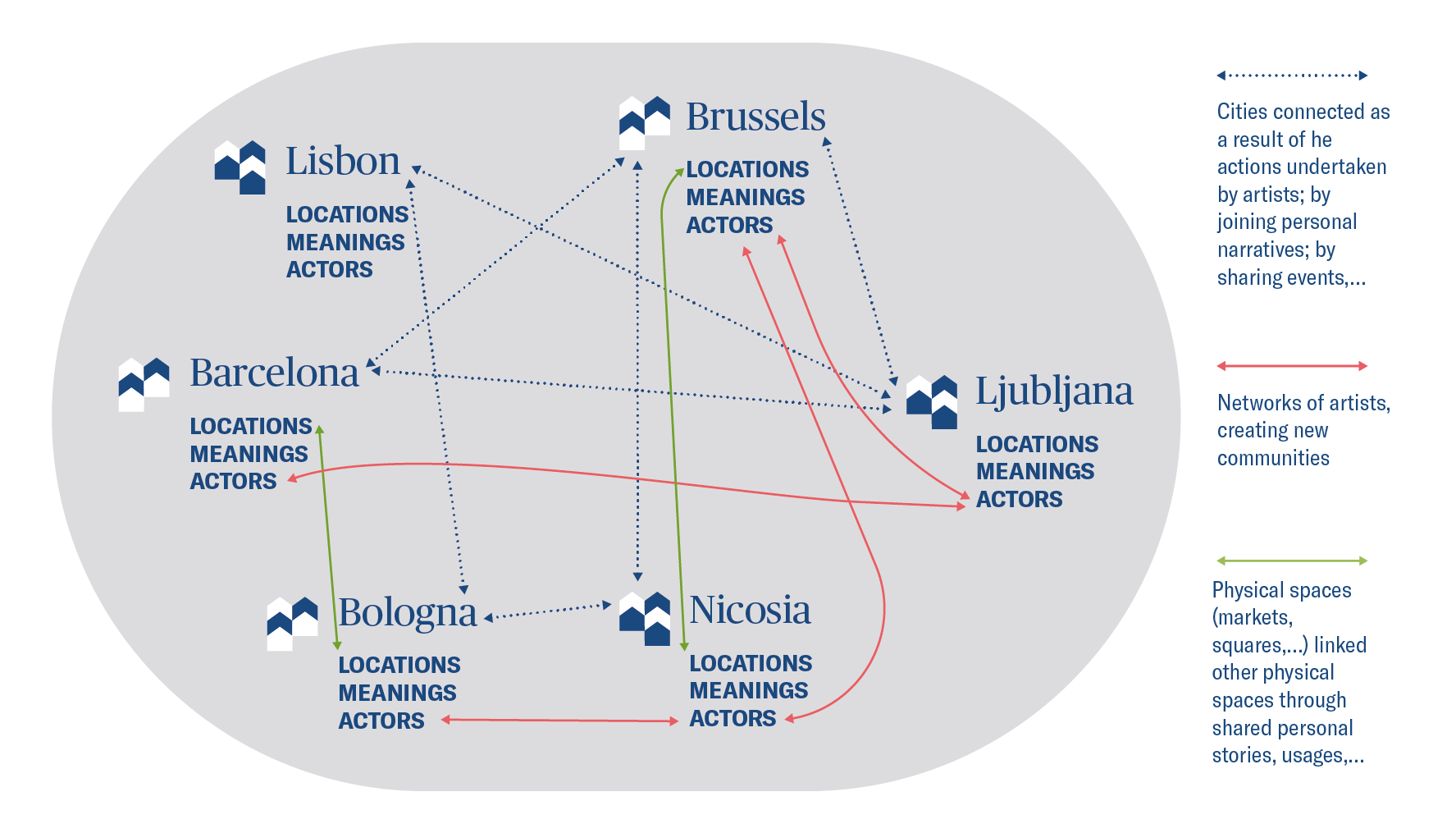 A-Place project, 2008
Festivals
The work carried out in the placemaking activities will be internationally promoted in three international festivals:
Loop Festival of Barcelona, an internationally known fair dedicated to video art led by Screen Projects
Installations in Loop Festival, by Screen projects. Barcelona, 2019
Urban Visions, an international network with seat in Italy dedicated to exploring the relationships between people and spaces with multiple media, organized by City Space Architecture
"Pop-up City. Searching for instant urbanity", exhibition promoted by City Space Architecture. Bologna, 2014
Pame Kaimakli Neighbourhood cultural festival in Nicosia, co-organized by Urban Gorillas, promotes the interaction between neighbours, artists and public in a process of constructing a sense of place in the community
Map of the Pame Kaimaki festival, by Urban Gorillas. Nicosia, 2018
Digital platform
Outputs of the local placemaking activities will be archived in the A-Place online platform to be created in the project. The contents will be available to the public, in English and in local languages. Users will be able to provide new inputs, by labelling, commenting and creating relationships between contents.
Outcomes of the placemaking activities archived in the digital platform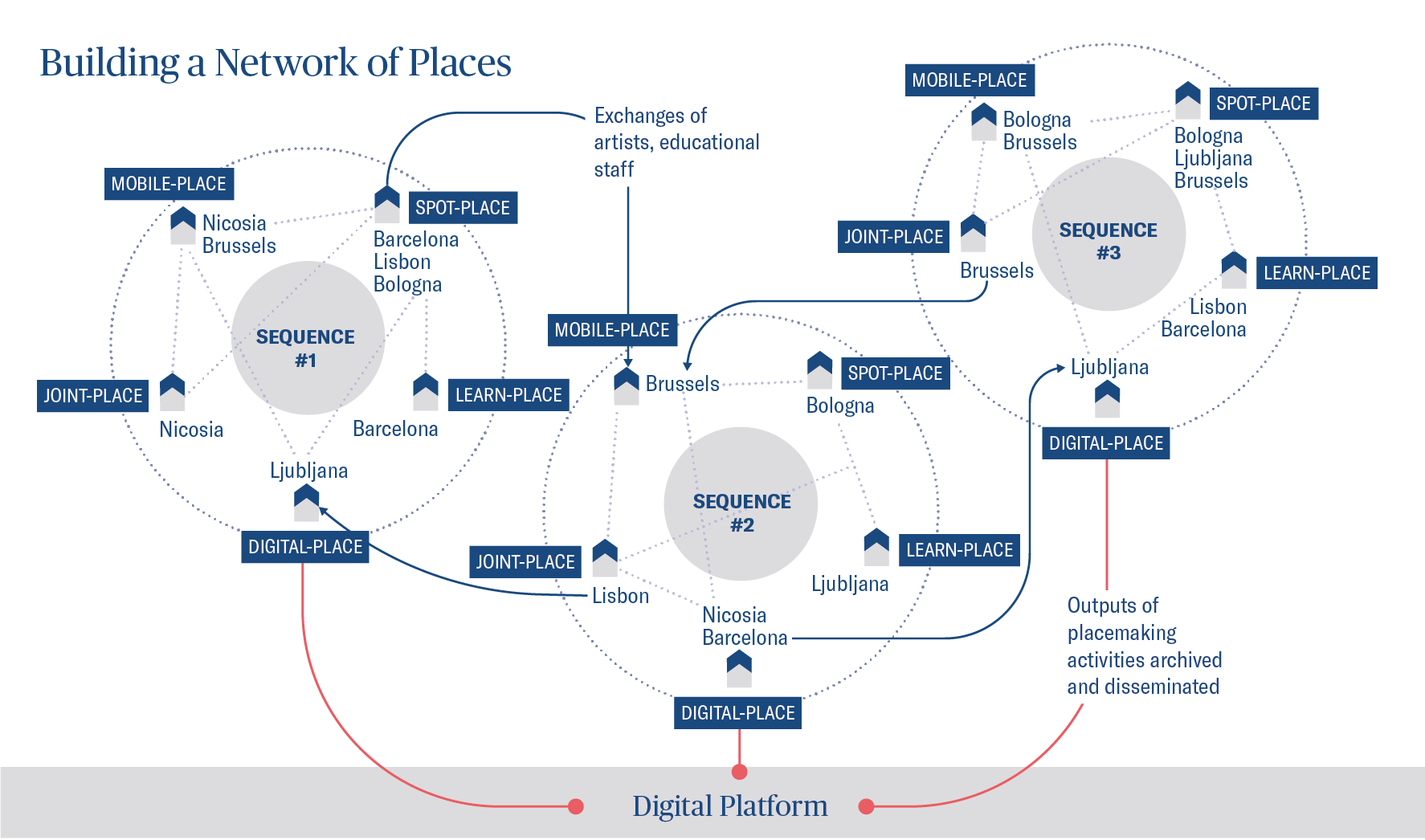 A-Place project, 2008
Support organizations
The following organizations have expressed their support to the project activities: EAAE- European Association for Architectural Education EPN-European Placemaking Network Fundació Mies van der Rohe, Barcelona, Spain Ecomuseo Casilino, Rome, Italy Hangar.org, Barcelona, Spain Small, Soft Metropolitan Architecture and Landscape Lab, Bari, Italy L'Escaut Coopèrative d'Architectes, Brussels, Belgium Municipality of Nicosia, Cyprus Municipality of Pafos, Cyprus