When
From 26 November 2022 to 27 November 2022
Where
L'Hospitalet del Llobregat (Spain)
ES_CULTURA is a two-day festival organized by the School of Architecture La Salle in Plaça de la Cultura, in Bellvitge, Hospitalet, with the collaboration of the city council. The festival transformed the public space into a hub for artistic expression with the participation of students of local schools, architecture students, artists, neighbours and civic organizations members. Sculptures and paintings, film projections, a sound installation as well music and dance performances, transformed the square and the surroundings during the two-day event.
The works showcased were selected by a jury through an open call. The public was able to actively participate in the festival in painting and drawing workshops for children, dance performances by senior residents.
The public assisting to the festival could vote their favourite piece. During the two days a total of 168 votes were cast. The most voted proposals were:
- "Bureau" by Nerea Mejías, Inés Moxo, Maria Rosa Gavin and Paula Díaz with 46 votes.
- "Revival", by Laura Garcimartin, with 44 votes.
- "El valor de Bellvitge", collective intervention of the high school students of the Institut Bellvitge with 18 votes.
Watch the video reportage of the festival.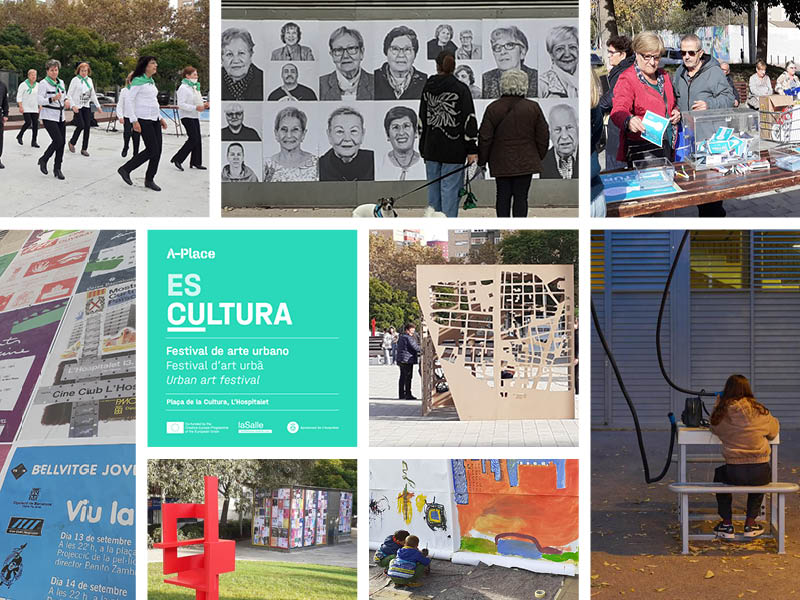 Other files:
Links
Contact
- Leandro Madrazo, School of Architecture La Salle (leandro.madrazo@salle.url.edu)
- Ángel Martin, School of Architecture La Salle (angel.martin@salle.url.edu)
Participants
- Students and faculty from the School of Architecture La Salle
- Students and teachers from Instut Bellvitge
- Artists selected in the open call
- Local organizations: PlayART, Casal de Gent Grant de Bellvitge, Asociación de Gent Gran de Ca n'Arús