Where
L'Hospitalet del Llobregat (Spain)
On June 22, 2021, we organized an urban walk through the neighbourhood of La Florida. in collaboration with members of the Espai Jove Sidecar, a community initiative to prevent the risk of social exclusion for young people in L'Hospitalet, and the neighbours' association 'Districte IV'. There were around 20 participants in total, accompanied by three faculty members of La Salle School of Architecture, organizers of this event.
We started the tour at the premises of the Espai Jove Sidecar, and continued along the Avenida de Catalunya, past the social housing of La Florida, until we reached Matacavalls where the Contorno Urbano is carrying out community-based participatory activities to transform a residual area..
Along the way, we asked the old residents to reminisce about these places and to tell us how they have been transformed. Their memories and stories were unknown by the young participants, most of whom came from other countries.
During the tour, participants took photographs of the places that sparked their interest or emotion. The photos were sent to a printing shop of the neighbourhood as we walked.
At the end of the walk, participants gathered around a map of the neighbourhood we placed in Matacavalls. They posted the printed photographs on the map and summarized their experience with the places in a short text. The map with the comments are now on display in a container module which is used for educational activities.
Other files: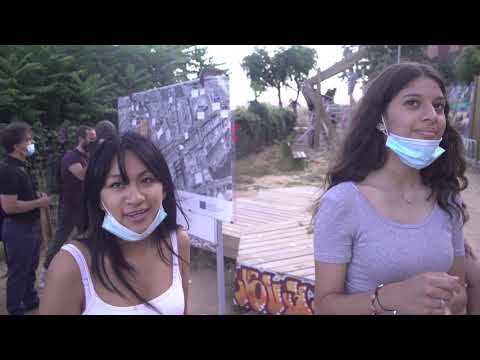 Links
Contact
Angel Martin, School of Architecture La Salle (angel.martin@salle.url.edu)
Participants
Members of Espai Jove Sidecar, neighbours association Districte IV, La Salle faculty